Wide range of alternatives to offer the best service
Difarmed encompasses numerous pharmaceutical distribution processes in Spain. First, we produce the highest quality drug packaging in-house. Second, we offer a range of products with the best prices in the market. In addition, thanks to our sales team and multichannel platform, we are able to offer the highest quality of pharmaceutical distribution to you and your patients. Therefore, our customers can rely on our ability to provide high quality products and exceptional service.
Joined in the pharmaceutical distribution channel, Difarmed works alongside the pharmacist to guarantee our industry a shared profit with the utmost respect for the quality and safety of health products.
Philippe Ollivier, Dir.gral. Difarmed. 2022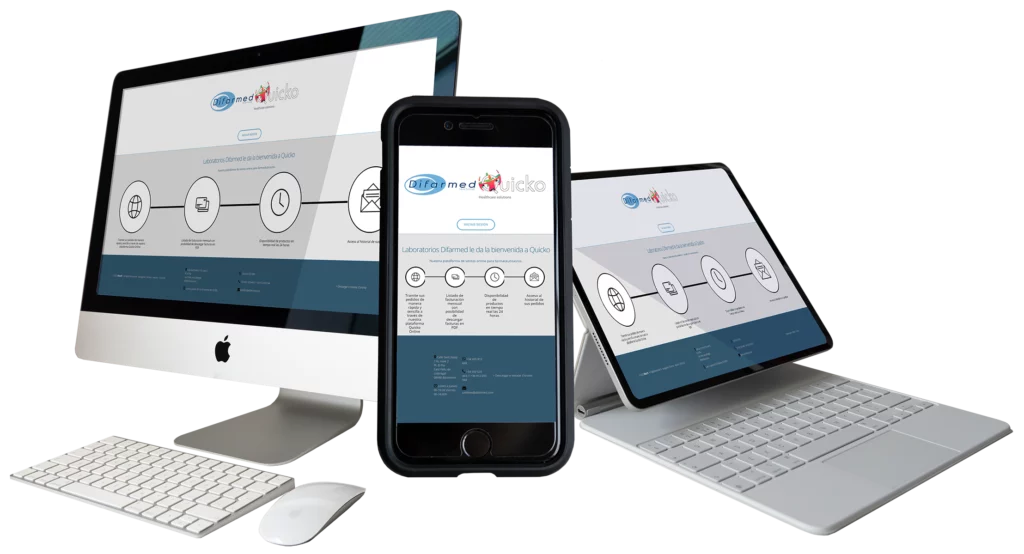 How to get access?
Get in touch with our team through any of our channels.
What is Quicko Online?
At Difarmed, we are proud to offer our customers an online ordering platform that is available 24 hours a day, 7 days a week. This means that our customers can place orders at any time that is convenient for them. In addition, our platform offers a number of useful tools for our customers. First of all, our customers can learn about the latest pharmaceutical products and keep up to date with the latest industry trends. In addition, our platform allows our customers to view their order history and download invoices easily.
What is the minimum amount to place an order?
The minimum amount for mainland Spain is 300 euros with 3 import references, for the Balearic and Canary Islands 500 euros with 3 import references and for Ceuta and Melilla is 2000 euros with 3 import references. See more. 
What are the purchase conditions?
At Difarmed, we offer incredible deals on all our pharmaceutical products. All our vademecum has offers on PVL from the 1st unit, with no additional charges. In addition, we encourage our customers to check the unit price to maximize their savings. For more information, contact us today.
If you want more information to collaborate, work or get to know us, get in touch with our team.